1989年4月28日,中国改革总设计师邓小平在中共海南省委关于设立洋浦经济开发区的汇报材料上批示:"我最近了解情况后,认为海南省委的决策是正确的,机会难得!不宜拖延,手续要迅速周全。"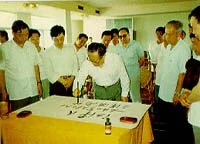 江泽民总书记视察洋浦时指出:"海南准备在洋浦划出一块地方来搞成片开发,吸引外商投资,我认为这是一件好事,党中央、国务院对此非常支持,小平同志也有批示。这确实是引进外资的一种形式。我们欢迎境外的客商到中国来成片开发。"
When visting Yangpu,Secretary General Jiang Zemin pointed out, "I think it's good that Hainan plans to allot a tract of land in Yangpu for area development. The  plan wins the support of both the Party Central Committee and State Council as well as Comrade Deng Xiaoping's written instructions, It's good way to introduce foreign capital. We welcome foreign investors to China for area development."
  李鹏委员长视察洋浦,并为洋浦题辞:"以工业项目带动洋浦开发,以洋浦开发带动海南经济。"

Chairman to Standing Committee of the NPC Li Peng visited Yangpu and wrote and inscription,"Industry puts impulse to Yangpu's development, and Yangpu's development puts impulse to Hainan's economy."